I have been working with teachers, educators and parents since the 1990s and together we have shared many innovative ideas.
These ideas sought to transform obsolete tools and methods of teaching and learning into new ones. This has become a Leitmotif for me which I have pursued throughout my career. This platform - NewYorkinFrench.net - is a logical continuation. I owe it to the many educators who helped me become who I am. This platform is for them, and for the many inspiring French-speaking parents whom I have met in the last few years and with whom I have embarked in the "Bilingual Revolution".
Here is how my own personal story unfolds.
A native of Valenciennes, France, I was not the brightest kid on the block but always managed to get by thanks to my parents' love and patience. In the 6th grade I met a very inspiring English teacher who took me to England on a class trip. This teacher, and this trip to England, have had, and continue to have, an impact on my life. I kept learning English and graduated from the University of Lille with a B.A. in English Literature and U.S. History in 1995.

While I have had a strong interest in learning and teaching ever since I started college, I came to fully understand the importance of innovative thinking in education w
hen I wrote my dissertation on Stanley Kubrick and his "Odysseys". In my dissertation I demonstrated that Kubrick constructed his movies with a circular, Odyssey-like logic, looping the loop back to Ithaca. I argued that Kubrick adopted the Odyssean archetype to push the limits of space, time and movement in his movies. Thus, this first attempt at scholarly research, influenced by a great genius, Stanley Kubrick, helped me understand the importance of a multi-disciplinary approach in research and education in general. I believe this approach helps generate new perspectives, find new solutions, and increase innovative thinking. For this research project I studied cinematography, literature, philosophy, visual arts, music and even some geometry. The full text of my dissertation is available here: TheOdysseysofStanleyKubrick
I enjoyed every minute of my 12 months spent on this project. It inspired me so much that instead of becoming a certified teacher in France, as most people around me would do at the time, I decided to begin my own Odyssey and left France to travel the English-speaking world.

I moved to Ireland to take on my first full-time teaching position as a
French teaching assistant at Trinity College in Dublin. I always enjoyed teaching and often find myself missing it when I stop teaching for too long. At Trinity I taught French civilization, grammar, and writing techniques to students of four different levels registered in the B.A. in French studies and the B.A. in International Studies. I continued teaching at the National College of Ireland where I taught French to undergraduate and graduate students in the business school. I was deeply involved in redesigning a four-year degree course for French for the B.A. in European Business and Languages, and in the internationalization of our programs through various student exchange programs. Through the European Erasmus – Socrates programs I initiated agreements with 22 French Universities involving the exchange of 230 students.

During my time in Ireland I developed an interest in the Irish cultural revival, and in the Gaelic language which was still mandatory in schools and public offices. After reading some of Douglas Hyde's writings, and studying his role in founding the Gaelic League, I began to research the various aspects and mechanisms of Ireland's cultural and linguistic revival, and their influence on the country's contemporary educational and political reforms. For this work I received a Master's Degree from the Université de Caen. The text of my dissertation in French can be found here: InterculturaliteGaelique.pdf

In 1997 I moved to the United States and became an education liaison at the Consulate of France in Boston. I was given the chance to visit numerous universities and schools in New England, and worked with French teachers and professors of literature and French studies. I was involved in promoting the French language and culture in schools and universities and worked closely with teacher associations which praised my efforts to further the cause of foreign language teaching in New England. I was involved with teacher training, as well as designing resources and teaching methods such as  'Accents de la Francophonie' - an audio presentation of French accents. For this project, I recorded and edited numerous Francophone people speaking with an "accent" (we all do by the way), and circulated them on tape (yes, analog! This was before the cloud, smartboards and iPads).
To this day, I still receive emails from teachers who have used my Accents in classes throughout the United States and Canada. With my Accents, listeners can travel through various regions of France, Quebec and North Africa and hear people speak French. Under its many forms this project was always well received. I even contributed to Boston's Museum of Science's 1999 special exhibit on languages and communications. For this project I recorded French speakers from all over the world. I might go back to this passion some day.
Once my military obligations were fulfilled I continued designing new resources, and gave many workshops and conferences for language teachers. I then became an assistant principal at the International School of Boston where I was in charge of a bilingual school with hundreds of international students, parents and teachers. I worked on implementing the French Baccalaureate as well as the International Baccalaureate. I even taught computer science to grade 11 and 12. 
While touring some of the universities in Maine, New Hampshire and Massachusetts I became aware of the presence and diversity of French heritage communities in the United States. Waves of immigrants coming from the North at the end of the 19th Century or from Africa and the Caribbeans in recent years have produced a rich and diverse Francophone community in this country with more than 1.3 millions people who  speak French at home according to the 2011 American Community Survey (part of the U.S. Census) .
I became interested in the vitality of French in these different groups and even researched extensively the sociolinguistic characteristics of French-speakers in Maine and other areas. I spent a year interviewing and recording local residents in small northern towns of New England. French is the mother tongue of many U.S. citizens but not many people realize it. Some of them even suffered enormous hardships for being French speakers, hiding sometimes the fact that they spoke French, changing their French names to more American-like ones, and even raising their children in English only to spare them from what they suffered when immigrating to the United States.
I also worked with young adults from Haiti or West Africa who left their country sometimes as refugees to seek a new life in urban centers such as New York, Boston, or Miami. The situation of French heritage communities in the United States has become one of my main focus of research. I have published several book chapters and articles on the subject with my co-author and friend, Jane Ross. Our publications are referenced here.
2012. "Building Bilingual Communities: New York's French Bilingual Revolution" in O. García, Z. Zakharia, and B. Otcu. Bilingual Community Education and Multilingualism. Beyond Heritage Languages in a Global City, (Multilingual Matters)
2013."French Heritage Language Communities in the United States" in T. Wiley, J. Peyton, D. Christian, S. Catherine Moore, N. Liu. Handbook of Heritage and Community Languages in the United States: Research, Educational Practice, and Policy  (Routledge).
2013."French Heritage Language Vitality in the United States." (Heritage Language Journal).
My other articles are listed on my Academia.edu page.
I moved to the Big Apple in 2001 to become the French Embassy's Education Attache in New York.Since then, I have worked closely with multiple teacher associations, and Departments of Education in several states, and developed on-line training programs, resource centers, and resources for the study of French - advocating for the teaching of French at all levels.
I have organized several conferences on the teaching of French, the importance of the French language in the world, French culture, Francophonie, early language learning, heritage language, international education, and the advantages of bilingualism and bilingual education. My work at the Embassy has focused on fostering educational cooperation between France and the United States, campaigning for the study of the French language in the United States, and providing training and resources to school teachers. I have given talks and presentations on the French language, the French educational system, French culture and French-speaking communities in the United States and throughout the world. I helped establish cooperative agreements between France and several states, fostering school-to-school exchanges, penpal exchanges, teacher collaborations, student travels, study in France opportunities for undergrad students, and so forth.
On the side, I taught French to diplomats and staff at the United Nations' head
quarters. I found this to be intellectually stimulating. I taught all levels of French in the program through a communicative and task-based approach. I also collaborated to create online resources, which were used in New York, Geneva, and more remote U.N. offices. Along with designing interactive activities I used a digital camera to interview dozens of French-speakers from all over the world during an international conference of French teachers which took place in Atlanta. Following my Accents à la carte project I turned these videos into pedagogical resources for many teachers and students.
Working in New York has been an incredible experience. It's is hard to pick one particular moment out of the many experiences I have had. From meeting famous showbiz stars to highly respected individuals, I have been fortunate with my time here. My French compatriots reading this page will appreciate that I even organized Bernard Pivot's famous Dictée - a spelling contest which appeared worldwide on French TV channel TV5 Monde. I guess I should give some credit to Bernard Pivot for being a guru-like figure and for making some of us become indefatigable French language activists! Like Bernard, I also organized some contests of my own, which  celebrated French-American iconic figures such as Lafayette or the Statue of Liberty, and drew tens of thousands of school kids to participate by singing, acting, writing, painting or doing myriad other things in French.
I am proud to have created successful programs and seminars for teachers. I am proud to have provided resources and books to many schools and under-served children in New York city and beyond. I am currently fundraising to serve an even larger group of students in public schools in New York and other places. Here in this picture I am with young adults from Haiti and Africa who take special courses in French in New York in order to obtain a degree called the GED. This degree allows them to move to college, or gives them some form of recognition for their skills. Some of these students' formal education had been interrupted because of war or poverty reasons in their home country.
Through my work I helped create important programs such as the French Heritage Language Program which brings enrichment activities to French heritage language children in public schools in the United States.
My colleagues and I found that children who recently arrive in this country and who maintain a strong level of proficiency in their home language (French in our case) gain self-confidence during their transition, better adapt to their new environment, quickly master the English language, and become overall good students.
Following this initiative I became even more involved in bilingual education and initiated the French bilingual revolution (a very positive and pacifist one I promise!).
With a group of parents and dedicated teachers and school principals we started offering French-English dual-language programs in public schools, first in New York and now in several other cities. We have now graduated our first cohorts of fifth graders and are moving on to bilingual middle and high schools. This work was featured in countless media outlets, particularly for the work done with developing bilingual programs in schools throughout the United States, and in New York in particular. Here are a few examples: NY Times, Nouvel Obs, NY Daily News, Associated Press, Wall Street Journal, Huffington Post, French-Morning, France-Amerique, VDN, etc. Recently, I made the front page of the NY Times with Kirk Semple's article which triggered a national debate on the importance of French in the United States.
In the picture above I am with Shimon Waronker, a New York City school principal who turned a failing school around in the Bronx, and introduced a French program in a school which was dominated by gangs and crime.
French-English bilingual programs in New York City's public schools are growing. The programs were developed not only to serve the French families who had initiated after-school programs, but also to meet the needs of a growing number of diverse Francophone immigrant children who are emergent bilinguals, better known as English Language Learners.
                      A photo with Laurent Fabius who visited PS58 in Brooklyn
Also, more and more non-French-speaking families are signing up for these high quality programs. A true bilingual revolution is taking place in New York's public schools. In order to succeed, French-English bilingual programs in New York require a solid tri-partite partnership –– strong commitment from the schools' leadership, very qualified and dedicated teachers, and ceaseless involvement from the parents at all levels. You can watch this video and see for yourself.  This revolution is spreading to other cities. In the picture below I am talking to children at the King Robinson elementary school in New Haven, Connecticut's first French immersion program.

Schools hosting these programs also benefit from the diversity of the population they serve and the diversity of the teaching staff, able to incorporate linguistic and cultural differences into their pedagogy.
This model is also rich in cognitive advancement and beneficial to the brain's executive control functions as illustrated by neuroscience researchers. in April 2013 I organized a conference on the advantages of bilingualism. This conference discussed and explored, via multiple fields and perspectives, the concept of "vivre bilingue" (living bilingually). It shared French and North American perspectives from experts in bilingualism, psychology, psychiatry, linguistics, nutrition, multiculturalism and education on the advantages of living with two languages. You can watch it here.

Since then I have helped parents and t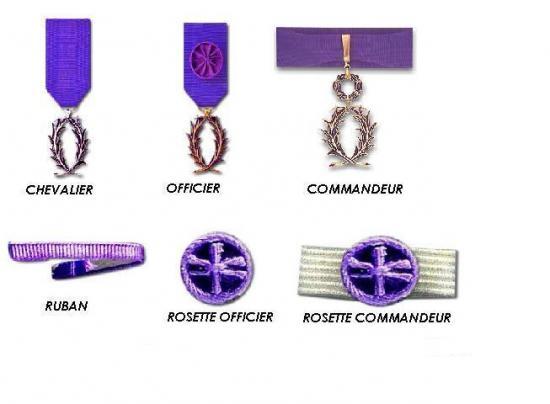 heir children gain access to much needed French-English bilingual education, and together we created several dual-language programs in public schools. For this work which I call the French bilingual revolution I was included in the 2012 "Top 50 Most Influential French in the United States" by France-Amérique, a French News Magazine published in the United States. I also received the honorific title of Knight in the French Order of Academic Palms in 2013. Here is a link to the speech and ceremony which was organized in my honor at the Embassy of France's cultural headquarters in New York. It was a great moment which I will cherish for ever.
I have been in the United States since 1997 and, throughout my time here I have encountered many philanthropists and foundations, many of whom invest in education.Coming from France where philanthropy is not very developed and education is still the sole responsibility of the State, I have been intrigued by the role and influence of philanthropy and civil society in the United States. Educational philanthropy became a topic of research for me. In 2007 I became a doctoral student at New York University's Steinhardt School of Education in the Ph.D. program in International Education. I am now Doctor Jaumont (I defended on November 12, 2013). Below is a photo with Vartan Gregorian, president of Carnegie Corporation of New York, whom I admire very much.
My research has focused on the role and influence of private foundations, particularly when high impact philanthropy meets education. At NYU I was fortunate to meet people who were involved with the Partnership for Higher Education in Africa – a consortium of seven of the largest foundations in the country (Ford, Carneg
ie, MacArthur, Rockefeller, Mellon, Hewlett and Kresge). The foundations spent $400 million in 10 years trying to develop African higher education and modernize African universities in selected countries. I decided to focus my research on their collaboration, and interviewed the program officers who were involved with the Partnership. I chose an institutional lens to look at these foundations' work, and a mixed method to visualize the mechanism and dynamics of their collaboration. My thesis is now submitted as the following pictures can attest. (Read the dissertation here)
I have presented my research in several venues and plan to publish several articles and perhaps a book on the topic of educational philanthropy. My Odyssey has taken a new turn with this research, and might take me to new places as I continue to persevere in this direction.
In December 2014 I received the Medal of Honor from the Committee of French-speaking Societies in the United States for services rendered to the French community through the Bilingual Revolution. I was also listed as one "who makes other people love France" by French business magazine Les Echos.
I am deeply touched by these distinctions, but the truth is, it could not have been possible without the robust effort of parents, teachers, donors, and the unwavering support of the French Embassy and FACE Foundation.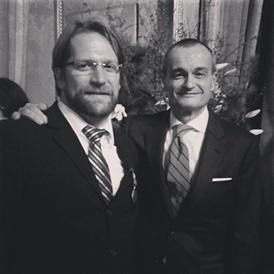 Above with French Ambassador to the U.S. Gerard Araud
Children and adults alike are becoming part of this movement to preserve linguistic, cultural, and historical ties to the Francophone world. This Revolution has swept NYC by storm, and slowly spreads to the entire United States. In 2014, 200 schools in 30 states and 116 cities offered a French bilingual program in the United States. I anticipate this number to multiply exponentially because the truth is that French is alive and well in New York and the world. Why? Because our children are part of a world where French is spoken in
over 50 countries, and as a microcosm of the world, New York City embraces the francophone world into a thriving community. Our children deserve the opportunity to connect not only with their relatives and friends, but also with their culture and their history. I suppose these among many other reasons are what motivated Michelle Obama to release PBS's new Global Learning & Diplomacy Collection for grades K to 13 in French. 
It's working. The support is rampant, but as a recent France 24 article mentioned, "New York, where French school is free – and fought over", this 'fight' is a blessing in disguise, which proves that the demand for bilingual French education is there. Let's work together to reduce the limitations because the truth is that it shouldn't be a luxury. 
I ended 2014 with a new title: Godfather of language immersion programs. This title appeared in an NY Times article published a few days before Christmas. But as I reflect upon the meaning of all this, I become even more convinced that we need to embrace and advance homegrown bilingualism, but that can happen only if we offer these languages in public schools. I also believe that immigrant kids raised in an environment that values the language of their parents learn English - or the dominent language in their adoptive country - faster.
Visiting PS 03's French dual language Kindergarten in Brook
lyn with French Senator Louis Duvernois. In NYC thousands of children live in homes where a language other than English is used. Instruction in 2 tongues helps them tremendously. Today, more and more kids benefit from a full-time dual language program in NYC schools, for free. They will graduate fully bilingual, biliterate, and multiculturally savvy. More language communities have now joined this Bilingual Revolution, with new dual language programs opening in Japanese, Italian, German, and Polish.
Dr. Fabrice Jaumont
Follow me on Twitter @FabriceJaumont
Follow me on LinkedIn https://www.linkedin.com/in/fabricejaumont
Follow me on Facebook https://www.facebook.com/FabriceJaumont