for full blog entry click here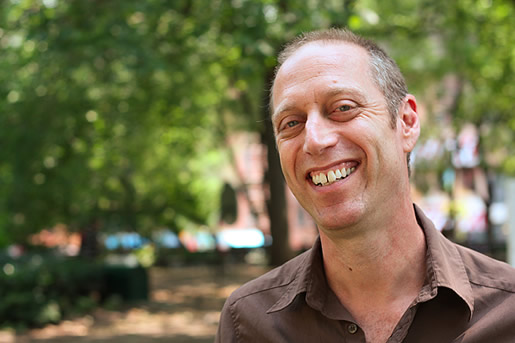 This week, Laurel Zuckerman talks with professional chef, author and Paris food blogger, David Lebovitz.
David Lebovitz worked for 13 years at Alice Water's legendary Chez Panisse restaurant and was named one of the Top Five Pastry Chefs in the Bay Area by the San Francisco Chronicle. His writing has been featured inBon Appétit, Chocolatier, Cooking Light, Food+Wine, Cook's Illustrated, The Los Angeles Times, Newsweek, The New York Times, People, Saveur, Sunset, and USA Today. 
In addition to his excellent blog, David's books include Ready for Dessert, the Perfect Scoop, The Great Book of Chocolate, Room for Desert,  and The Sweet Life in Paris which was a finalist in the Best Literary Writing category, in the 2010 Cuisinart/International Association of Culinary Professionals awards.
***
Laurel Zuckerman: For you, which came first, writing or cooking?
David Lebovitz: Cooking. I started working in restaurants when I was sixteen years old. Even though I learned to write a little earlier than that, I was a professional cook before I started writing, like I do now.
LZ: Do they compete for your attention? If so, who wins?
DL: Nowadays it's kind of a wrestling match between the two, with me in the middle. I prefer to be in the kitchen, but writing takes a lot of concentration and I need to buckle down to do it, so my time it divided. The best part about writing is there's no dishes to wash. But when I'm cooking, at the end of the day, dinner's ready. So I'm not sure which wins, but anything that involves less dishes may have the edge.
 LZ: What brought you to Paris, and why do you stay? 
DL: It's funny because that's my number-one asked question by visitors. I used to just stand in the middle of the street, throw my arms up, and say "Look around you!" but I got too many looks from people passing by, wondering what the crazy American with the croissant crumbs on his jacket was doing standing in the middle of the street, twirling around shouting, with his arms in the air.
I wrote a bit about some of my reasons for moving to Paris in The Sweet Life in Paris, but they're still vague and undefined. Perhaps that's another book?
So why do I stay: I like the quality of life in Paris. In spite of some of the difficulties of life in France, it's a pretty nice place and the city of Paris actually feels like a very large, urban village. I like knowing people in my neighborhood - the baker, the people at my market, the people standing over the griddles  at my crêperie - I like that small-town interaction and folks tend to think of cities as big, impersonal places. But even New Yorkers know people in their neighborhoods. I lived in San Francisco for nearly twenty years but spent so much time in the car that I just missed walking around, too. I like living in a place where I don't have to drive, especially because the wine flows so plentifully. Which, come to think of it, is another reason I stay.
LZ: Where did you learn to write?
DL: I never really learned to write, at least professionally. I just write like I talk, which some say is a skill. But I think writing recipes is good practice for most writing other kinds because it teaches you to be descriptive without being overly wordy. And writing is all about editing and recipe-writing is the ultimate editing exercise because no one wants a 5 page recipe for brownies. But you do need to include certain key information without scaring people from the recipes.
LZ: Which writers have influenced you the most?
DL: To be honest, I wish I was more influenced by other writers. Favorite food writers like Roy Andries De Groot, Richard Olney and Jane Grigson are amazing, and whenever I read anything by contemporaries like Alec Lobrano and John Thorne, I use them as models for how wonderful someone can write about food. But I'm not any one of them and I don't think people should try to emulate other writers at all. Just be yourself.
 LZ: How did you discover and develop your own voice?
 DL: Blogging is a great way to develop as a writer. The trap is to avoid being too conversational. For example, I say "like" as every third word...but readers would probably tire of that. When I write a book, it's more permanent and I know that people are paying for the book, so I spend more time laboring over the words. Also I always have an editor who helps out and gives me the red pencil if I've gone too far off the deep end.
 LZ: How do you keep in shape for writing ? Are there any special foods that sharpen or enhance your ability to write ? (Or on the contrary, things you actively avoid when facing a deadline ?)
 DL: Depending on how you look at it, my apartment is well-fortified with lots of chocolates, caramels, and candies, squirreled away all over the place. (For"research.") And unfortunately, I snack a little too much, which is also my preferred method of procrastination. I do yoga three times a week and walk or ride a bike as much as possible because writing can get a little lonely; it's just you and the computer.
And if I find myself staring at a screen for more then eleven hours straight, I start to get a little batty and vow to get outside later that week.
LZ: Do you think a chef tends to look at the world in a slightly different way?
 DL: It's funny to see the whole chef thing glamorized, because for the most part, we're people in the back of the kitchen toiling away and some of the people I've worked with were best kept far, far away from the public. A lot of us are really marginal and obsessive and it's weird to see the whole thing put in front of the public in such a polished way.
Chefs  tend to be analytical and to-the-point. There's no time to dawdle or worry about hurting someone's feelings; if you're discussing a dish, you say how you feel, you don't take offense, and you move on if you make a mistake since if you get hung up on things, you're going to get behind when the next rush comes in. But baking and being a pastry chef, you do a lot of thinking because you're measuring and so forth, rather than heating up pastas and grilling meat, which are more physical skills.
for the complete interview, click here
***
David Lebovitz's books are widely available in bookstores, and on the web. To visit his blog see: http://www.davidlebovitz.com/
Laurel Zuckerman is the author of Sorbonne Confidential and the Editor of Paris Writers News.
For more interviews with authors, see Paris Writer News Interviews or follow us on twitter at @pariswriters